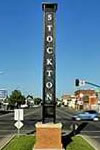 All Star DJ Group has performed at many facilities and schools in the area. One in particular, University of the Pacific (UOP), is famous for its high academic standards, but also for the sorority and fraternity parties there. Their sister campus, McGeorge School of Law, has utilized our services with student graduations and faculty parties.  If considering this area, then call regarding packages with their gorgeous convention rooms.  They have a chapel as well that has been utilized by many of our clients.
Weddings in Stockton and the Lodi area are also popular, especially at one of the hot spots called Wine & Roses in Lodi. This rather large wedding facility can accommodate multiple weddings all at the same time. Stockton is also known for its many festivals and fairs.  Alex and Faye Spanos have created much of Stockton's entertainment venues, such as the revitalized Bob Hope Theatre. Another great facility is the Stockton Arena, just the right size for medium size events.  If you are looking for a venue that accommodates smaller weddings, the Stockton Civic Auditorium is the right choice, right in the heart of Stockton.
There are many beautiful wedding facilities just outside Stockton/Lodi to the east, especially in the foothills, like Ironstone Vineyard; this place rocks with weddings and concerts!  One of the award winning photographers we recommend is in the area is, Darling Photography with Vicki Darling.